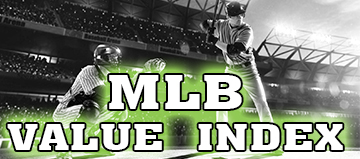 Well last night's pitching was a disaster.
Thanks Keuchel and Moore.
I guess something isn't right with Mr. Keuchel, so he's off my radar until I see him reign it back in. As for Matt Moore. He's dead to me in DFS from here on out.
Tonight we have a 10-game slate, bigger than most Thursday's. But for the third day in a row, DraftKings has elevated the prices of a lot of hitters.
I don't know what's up with the change in pricing these past few days. I haven't seen an explanation about it from DraftKings.
But Tuesday, the first day this little experiment took place, it felt like I should have paid down for pitching and it paid off very well. Last really was kind of the same thing outside of Zack Godley. It could be a third day in a row where paying down for pitching pays off, especially with the matchups the top arms have.
So I have no clue where I want to go with pitching and with last night's debacle and a few other misses of late, I am going to stay off the pitching recommendations for awhile. It's DFS though, the success comes and goes, have to keep that in mind.
Today we have a short list of names I have narrowed things down. I still have to figure out the rest as the day goes on, but these guys stuck out the most when doing research.
OH ALSO….screw the Nationals. They got what they deserved against Vance Worley last night. Benching Murph, who dominates Worley, was such a tilting event. I loved him and he was so underpriced. Ugh, still fuming about that one.
Rant is over, now to tonight's options.
Analysis:  So I guess I am falling in love with some of the Pirates today. Starting with Starling Marte, who has dipped below $4K. Pitt gets a greaser named Sal Romano, who has been completely awful this year (same could be said about last night's matchup and they fell flat). Romano has a wishy-washy line of stats. He has a 3.98 ERA, but a 5.13 xFIP to right handed bats this season. He also has allowed a .397 wOBA already. What's it going to be when the regression kicks in???
Analysis: While other teammates of Machado's got a significant price increase, I think his price is fair. I do like Moustakas, but I can't help myself to want to pick on Tiger's lefty Matt Boyd, who is hideous. Against righties this season, Boyd sports a .363 wOBA, a 1.31 HR/9 rate and a 40% hard contact rate. Against lefties this season, Machado owns a .339 wOBA, a .225 ISO and a 49.5% hard contact rate. He's also 2-for-2 against Boyd with a double and an RBI.
Analysis: While I love Machado, I will have my fair shares of Devers, especially after yesterday's postponement. He's priced down from Wednesday's slate and gets a better matchup against White Sox' slog monster Miguel Gonzalez. Devers has inflated numbers against RH bats this season, but he's been mashing since being called up. Miggy Gonzalez has struggled all year, and against lefties, has allowed a .355 wOBA, a 1.11 HR/9 and a 35% hard contact rate.
Analysis: The Red Sox are firmly in play tonight for me, especially the young lefties with power. You saw Devers, now it's on to the Super Nintendo, who sports a .331 wOBA, a .162 ISO and a 37% hard contact rate to RH pitching this season. The price continues to be suppressed for Andrew, so hope on while they are still low.
Analysis: For the first time all year a player recommended on the Index went off when recommended a day after doing well. Josh Bell was here yesterday and he flunked, so will the idea of going back to the well pay off? Against lefties this season, Romano has been bad, too, allowing a .326 wOBA, a 5.57 xFIP and a 35% hard contact rate.
https://dailyoverlay.com/wp-content/uploads/2017/04/MLB_Value_Index-360x159-1.jpg
159
360
Stephen Monahan
https://www.dailyoverlay.com/wp-content/uploads/2018/07/logo.png
Stephen Monahan
2017-08-03 04:18:53
2017-08-03 04:18:53
MLB Value Index - August 3