Welp, see ya later FanDuel.
This weekend will be the last this Texan can play DFS on FanDuel. I hope the remainder of DFS sites don't fall in line, and I hope FanDuel can help get DFS back on board in Texas.
I received an email before the baseball season started that FanDuel reached an agreement with our state government, but that agreement involves halting play for awhile. The whole issue is strikingly absurd, like watching a drunk guy take a hot dump in the middle of a bar floor.
Now take a second to clear that image out of your head…absurd though right?
Anyway, hopefully some great things come out of this agreement eventually and I hope the end result is fair play for all 50 states.
With that said, I am distracted writing this due to the NFL Draft, but after a little disappointment, I am now ecstatic about the Cowboys' selection of Ezekiel Elliott. How about them Cowboys?
Now switching gears to baseball. I am out to finish the week strong and take back that top spot in the expert rankings!
Dustin Pedroia – 2B – Red Sox – vs. Masahiro Tanaka
BvP: 5-for-13, 2 2B
Analysis: The Red Sox/Yankees rivalry gears up tonight at Fenway. I feel the Red Sox are going to need some offense tonight with lefty youngster Henry Owens on the mound. Despite the Yankees woes against lefties so far this season, this is a rivalry game that gets special attention from both sides. Pedroia being one of those guys. He's on a tear of late and has the Green Monster on his side here. Tanaka's peripherals look good, but he has some regression coming for sure.The Red Sox are hot right now and this is a rivalry game. Pedroia should come at a cheap price for you today as well.
Josh Donaldson – 3B – Blue Jays – vs. Drew Smyly
BvP: 6-for-11, 2 2B, 2 HR, 3 RBI, 1 BB, 1 SB
Analysis: Donaldson couldn't get it done against Chris Sale earlier this week, but Drew Smyly isn't Chris Sale. The Trop also isn't the Rogers Centre, but the venue doesn't really matter to me here. Donaldson is matchup proof and kills lefties as you should already know. Smyly is allowing only a .200 wOBA to right handers so far, so he can't keep that pace up. With 4 hits going for extra bases out of the six against Smyly, Donaldson has shown he has already been able to get to Smyly with power. You can't really go wrong here for cash games or GPPs.
Rougned Odor – 2B – Rangers – vs. Hector Santiago
BvP: 9-for-19, 3 2B, 1 HR, 4 RBI, 1 BB
Analysis: You might not realize this, but Rougie actually hit better against left-handed pitching than he did against righties. The same is starting to play out this season as well. Odor is starting to see the ball much better and is making contact on the sweet spot of the bat of late. He also gets to hit at home, a place he has thrived early in his career. With the threat to swipe a bag and the power to boot, Odor makes a great play against flyball pitcher Santiago who is allowing 36.4% hard contact to lefties this season, but has just a .135 wOBA, a pace he can't keep up with all year long. Rangers Ballpark is a top-5 hitter's venue and it will be warm tonight in Texas.
Miguel Cabrera – 1B – Tigers – vs. Phil Hughes
BvP: 17-for-38, 5 2B, 5 HR, 13 RBI, 1 BB
Analysis: Since taking a day to rest his mind during a long-winded slump, Miggy immediately went beast mode with 9 hits, 2 2Bs, 2 HRs and 4 RBIs in his past four games. This game is at Target Field, which favors RH hitting. Phil Hughes also is a reverse-splits pitcher (.340, .321, .369 wOBA past 3 seasons) and he faces his arch enemy in Miggy, who has 5 dongs off of Hughes. How about we move that number to 6?
Matt Kemp – OF – Padres – vs. Alex Wood
BvP: 4-for-6, 1 HR, 1 RBI
Analyss: Alex Wood somehow pitches well at home after looking awful in his road starts this year. Even with home field advantage tonight, that doesn't deter me from Matt Kemp and the revenge game narrative. Kemp plays with a chip on his shoulder when he faces his former team and he is still a reliable lefty masher. While lefties have torched Wood much more than right handers this season, Kemp will be with his best focus against a lefty vs. his former squad.
Mike Trout – OF and Kole Calhoun – OF – Angels – vs. Colby Lewisis inTrout BvP: 12-for-30, 1 2B, 2 3B, 4 HR, 11 RBI, 4 BB
Calhoun BvP: 11-for-28, 2 2B, 1 3B, 1 HR, 5 RBI
Analysis: I really should include Pujols in this stack, so if you want to do that, he does have 3 HRs off of Lewis in his career (pretty sure it's more if you count the postseason). Anyway, Trout has 12 hits in his current 8-game hit streak. If Trout is on, he's arguably the best hitter in baseball. A friendly hitter's venue against an aging pitcher that he has owned in the past is a recipe for 2-HR potential. Calhoun is in play, not just because of his BvP against Lewis, but because Lewis already owns a .428 wOBA vs. lefties and has nearly a 40% hard contact rate against lefty hitting already this season. He is in an 0-for-13 slump, but that's nothing an aging, mediocre fly ball pitcher can't fix.
Hector Santiago – SP – Angels – vs. Texas Rangers
PvB: 37-for-146, 9 2B, 4 HR, 11 RBI, 17 BB, 25 Ks
Analysis: I keep waiting for the Rangers to tattoo Santiago like they did in 2014, but in his last 7 starts against Texas, Santiago is 3-0, allowing 10 ER in 40 1/3 innings. He is prone to the long ball and it is a pitcher's park, but the Rangers haven't been a strong team against lefties recently. They strike out more than they should and Santiago owns an 8.5 K/9 rate this season. Outside of Odor and Beltre, the rest of the Rangers have struggled against Santiago in their career. Ian Desmond and Nomar Mazara have little to no at bats against him so far, so I will hang my coattails that Santiago can fight them off as well and put together a quality start with some Ks.
Lastly, we provide BvP-related lineup to track. Tuesday started the week strong before a huge dud on Wednesday. Again, this lineup isn't all BvP plays, but rather building a lineup around some of the BvP plays above. Salary will dictate a lot of the play because I likely will want top-tier pitching most of the time. We will recap this week's efforts on Tuesday, May 3.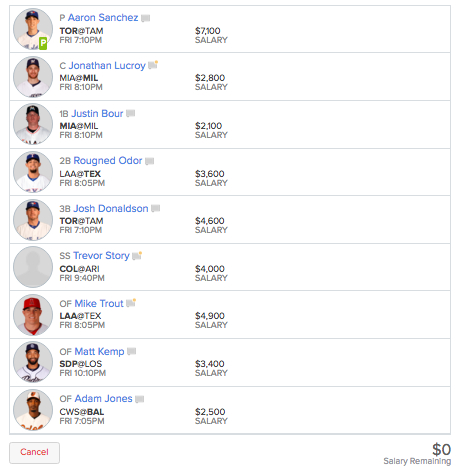 BvP Narrative: Trout, Kemp, Donaldson, Rougie make this lineup from my list above. I like Aaron Sanchez at the Trop against the Rays K% that's near the 30s. Trevor Story is cheap for the upside at SS in a game at Chase Field, the second coming of Coors Field. I also like players in the Milwaukee game. Miller Park is an underrated hitter's park. Bour should be in the lineup against Davies, who is allowing a .478 wOBA to left-handed hitters. Lucroy is up against LH pitcher Adam Conley at a cheap price with upside. Good luck all!
https://dailyoverlay.com/wp-content/uploads/2019/07/MLB-BvP-POST.jpg
500
1200
Stephen Monahan
https://dailyoverlay.com/wp-content/uploads/2018/07/logo.png
Stephen Monahan
2016-04-29 12:00:50
2016-04-29 12:00:50
BvP for MVP - April 29