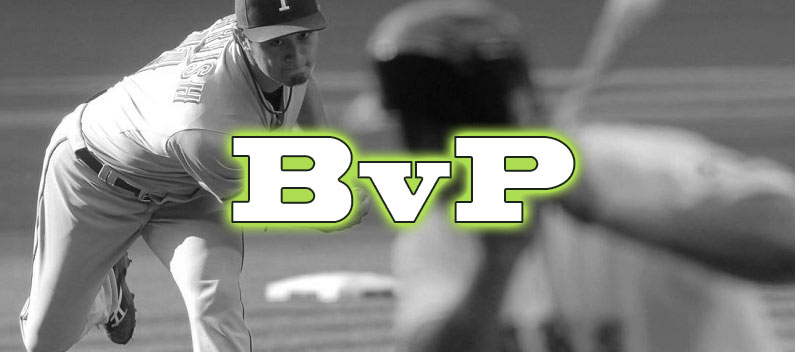 I'll be honest, I might be a little distracted from baseball this week.
There's $1 million on the line in DFS golf with the U.S. Open looming Thursday at the Oakmont Country Club. It's the second major of the season and DraftKIngs second Millionaire Maker golf contest. I will have some focus, but will definitely do my best to still provide you with quality picks!
Tonight we have a 14-game slate with a game at Coors, one true stud ace on the hill and the rest of the field of pitching.
The Yankees get the Coors draw and get a lefty in round one. Southpaws are not the Yanks' strength this season while the Rockies get Nathan Eovaldi, a fireballer who struggles against lefties. Can you fit in Bumgarner with the needed Coors firepower to win cash games and/or take down GPPs?
Here's a few picks for you to help you round out your lineups tonight. Please remember to stop by dailybaseballdata.com for all other BvP stats and data. Good luck tonight!
Adrian Gonzalez – 1B – Dodgers – vs. Archie Bradley
BvP: 0-for-1, 2 BB
Analysis: The home cooking of Dodger Stadium has really clamped down on A-Gon's production this season. But away from home, Gonzalez has had much better success. Tonight, Gonzalez gets the benefits of Coors, Jr. (Chase Field) and he gets to face a young buck who has made some mistakes against lefties this season. Bradley has a .376 wOBA against lefties and a 1.46 HR/9 rate against them as well. Bradley likely makes an interesting GPP option at pitcher considering the Dodgers' offensive woes, but Chase Field can make even the worst of offenses look good just like Coors. I'll take the veteran over the inexperience
Alex Rodriguez – 1B/3B – Yankees – vs. Jorge de la Rosa
BvP: 2-for-5, 1 HR, 1 RBI, 1 BB, 1 SB
Analysis: I really don't think I need to explain any pick that is playing at Coors. But you should know A-Rod has 12 hits in his last 10 games, including four multi-hit efforts. The BvP sample is small, but A-Rod still has a lot of power against lefties supported by his .261 ISO against. JDLR is allowing +38% hard contact rate and owns a .421 wOBA against RH bats. Need I say more?
Jason Kipnis – 2B – Indians – vs. Chris Young
BvP: 7-for-17, 2 2B, 1 3B, 1 HR, 3 RBI, 1 BB, 1 SB
Analysis: Gas can is cliche, and I tried garbage tosser and some other adjective that I've already forgotten (because it didn't work and I'm too lazy to go back and check). So how about we try….snot rag? I like that one already. Yes, Chris Young is the Snot Rag of the day. The 6-foot-10 lumbering righty is a lefty hitter's wet dream. Kipnis already started off the series against KC very well last night with a 2B and  HR. Tonight Kip tackles CY, of whom he has hit for the cycle against. It's hot in KC which means the ball with travel further despite the pitcher friendly atmosphere of Kaufmann. Young has a whopping .512 wOBA and a 52.5% hard contact rate against lefties. That's snot very good.
Salvador Perez – C – Royals – vs. Josh Tomlin
BvP: 13-for-20, 6 2B, 1 HR, 6 RBI
Analysis: Switching to the other side of the dugout in KC, we have Salvador Perez, who is on fire right now. The Royals' backstop collected 3 hits last night and has multi-hit games in 4 of his last 5. Josh Tomlin has a ridiculous win-loss record for the Indians, but he hasn't been perfect. He's a reverse-splits pitcher that has allowed a .320 wOBA and a 37.3% hard contact rate against the same handedness. In 13 hits against Tomlin, more than half of them are for extra bases. This tells me Perez is getting the good part of the bat on the ball very frequently against JT. I think he's got something figured out on the Indians' starter, don't you?
Mike Trout – OF – Angels – vs. Ervin Santana
BvP: 3-for-7, 1 HR, 1 RBI, 1 SB
Analysis: I think both Santana, who returns to his old stomping grounds, and Jhoulys Chacin, his opponent, are interesting punt pitching plays. With that said, I love Trout tonight against the reverse-splits and erratic Santana. The BvP sample is small, but Trout is nearly always in play night in and night out with a high floor and high ceiling. Trout also likely goes underowned tonight with Coors and Chase on the ticket and Trout's $5,000 price tag on DraftKings. Against RH bats, Santana owns a .370 wOBA, a .307 batting average against and a 1.67 HR/9 rate against RH batters. I'm calling my shot, Trout goes yard.
Madison Bumgarner – SP – Giants – vs. Milwaukee Brewers
PvB: 25-for-93, 6 2B, 6 HR, 14 RBI, 9 BB, 26 Ks
Analysis: Maddy B has regression in his future, but I am going to ride Bumgarners' ability to pitch well at home in pitcher friendly AT&T Park. The 6 HRs are concerning against the current Brewers' bats, but I'll take the park factor here to calm the Brewers' bats and allow Bumgarner to mow down the Brew Crew, which sport a 22.2% K rate against southpaws this season. Bumgarner's price tag is very high tonight, but I think it's a valid price point for the huge upside Bum has tonight against a lowly Brewers squad.
Lastly, let's recap last week's BvP lineups and go over tonight's entry.
| | | | | | | |
| --- | --- | --- | --- | --- | --- | --- |
| Date | Contest Type | Entry Fee | Lineup Score | Winnings | Profit | Total Profit |
| 6/7/2016 | GPP | $1 | 72.9 | $0.00 | -$1.00 | $13 |
| 6/8/2016 | GPP | $1 | 131.25 | $0.00 | -$1.00 | |
| 6/10/2016 | GPP | $1 | 84.7 | $0.00 | -$1.00 | |
This was one of the few weeks we weren't able to cash any lineups. That 131 was nice, but it was just shy in the $1 Solo Shot on DraftKings. We are still profiting for the year, so let's hope we can add to that total this week.
Lineup Analysis: Chacin is pure punt play that has double-digit strikeout upside against the strikeout heavy Twins. Tim Anderson might get swapped if he isn't in the lineup, but I suspect him to be now that Jimmy Rollins has been demoted to the minors. I am going to ride the hot hand of the A's against the Rangers with Khris Davis and Jake Smoliinski against lefty Martin Perez. I did like them as BvP options, but Perez is a huge ground ball pitcher in a large, pitcher-friendly stadium, so I am not confident the A's have the same upside as they did last night against Cesar Ramos. Good luck all!
https://dailyoverlay.com/wp-content/uploads/2015/06/BvP.jpg
352
795
Stephen Monahan
https://www.dailyoverlay.com/wp-content/uploads/2018/07/logo.png
Stephen Monahan
2016-06-14 12:00:15
2016-06-14 12:00:15
BvP for MVP - June 14