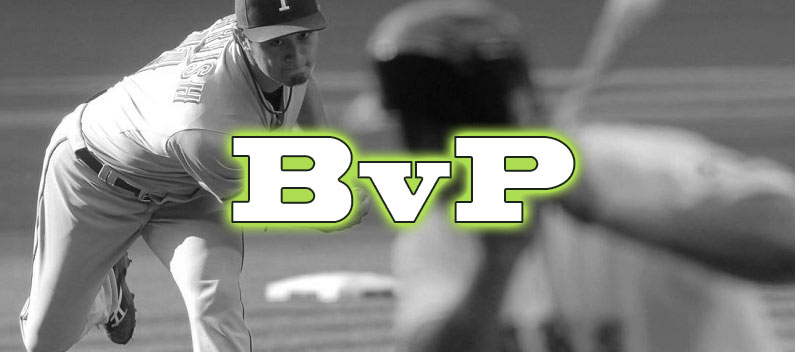 After a short hiatus earlier in the week, I have returned to provide you a few (hopefully) better options than Tuesday.
There are a lot of young arms on the mound tonight, so we had to dig deep (loosely stated) for some options tonight.
We have a full 15-game slate with a game at Coors, a big-time ace in Max Scherzer versus a big-time strikeout team, and then the rest of the pack. Scherzer is the clear cut top option of the slate, so pairing him with another arm on two-pitcher sites and sneaking some Coors bats in could be a difficult task.
Anyway, this intro is short and sweet, so remember to check out dailybaseballdata.com for all other BvP data for tonight. Time for picks!
Alex Rodriguez – 1B/3B – Yankees – vs. Tommy Milone
BvP: 4-for-9, 2 HR, 3 RBI
Analysis: First up is Alex Rodriguez who makes his big-league return since the beginning of May. The Twins' soft-tossing lefty has not been good this season with a .435 wOBA vs. lefties and a .341 wOBA vs. RH bats to go along with a 5.79 ERA. He does have a 4.10 SIERA suggesting that some regression could come assuming Milone can keep it together long enough to go 5 to 6 innings. The Yankees aren't very good against lefties, but A-Rod is a solid option that still has HR upside for a cheaper price. I am not recommending him for cash games, but should go somewhat unnoticed in tournaments with the Diamondbacks and Rockies at Coors.
Dustin Pedroia – 2B – Red Sox – vs. Nick Martinez
BvP: 3-for-4
Analysis: Might I suggest the Red Sox tonight as a pivot from Coors? They burned everyone against the dwindling James Shields in Fenway yesterday, so I expect their ownership to drop a lot. Most of the Sox' prices have remained high, but Pedroia has dropped on DraftKings. The sample size is very small, but it's hot here in Texas and stupidly humid already. Martinez is worse than Derek Holland, in my professional opinion. He's going to give up hits and runs and is a career reverse-splits pitcher and has a .411 wOBA to RH bats in his limited action. His 5.14 ERA and 5.74 SIERA are exactly what we want to see in DFS. Get on the Texas pummel horse with those Boston bats.
Jonathan Schoop – 2B – Orioles – vs. Matt Moore
Schoop BvP: 3-for-6
Analysis: Schoop is on a nice heater right now. He owns 3 multi-hit efforts in his past four games and has improved his ability to hit lefty arms. A game at Camden Yards where it's getting warmer is a boost to hitters. There might be some weather concerns there, so keep that in mind when considering Schoop. We thought Moore was returning to his old form, but he hasn't recovered for much of the year. He has allowed 1.71 HR/9 to RH bats this season and .350 wOBA to RH hitters as well. Schoop has been moved up in the order recently and could be right in the heart of the order against tonight against a lefty arm.
Trevor Story – SS, Charlie Blackmon, OF and Carlos Gonzalez – OF – Rockies – vs. Archie Bradley
Story BvP: 2-for-3, 2 2B, 3 RBI
Blackmon BvP: 1-for-3, 1 RBI, 1 BB
Gonzalez BvP: 2-for-4
Analysis: This is where the term "loosely" applies to my research. I needed some BvP options I could trust and what better way than selection a 3-man stack against a struggling rookie pitcher in the best ballpark for runs! Fitting all three in a lineup will be a challenge but you can easily supplement them with the right pairings. The picks are obvious, but Story, Blackmon and Gonzalez are coming off successful offensive performances in New York and now they get to continue their hot hitting back at home where the team thrives. This one is easy.
Max Scherzer – SP – Nationals – vs. Milwaukee Brewers
BvP: 7-for-61, 1 2B, 2 RBI, 3 BB, 28 Ks
Analysis: Well, when a team only has 7 hits in 61 ABs, that's already an eye-popping stat. Add in just 1 extra base, only 3 walks and 28 Ks, and you have a solid PvB line. The Brewers are one of the worst teams in baseball against RH pitching as far as Ks are concerned. They whiff at more than a 25% clip. I don't have to convince you to roster Scherzer, but he has pitched better on the road than at home. He has a 11.37 K/9 rate and his 3.29 ERA his higher than his 2.90 SIERA, so Scherzer is in solid form. Max out your salary with Scherzer!
https://dailyoverlay.com/wp-content/uploads/2015/06/BvP.jpg
352
795
Stephen Monahan
https://www.dailyoverlay.com/wp-content/uploads/2018/07/logo.png
Stephen Monahan
2016-06-24 12:09:42
2016-06-24 12:09:42
BvP for MVP - June 24