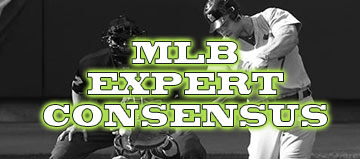 We have some positive momentum going with our lineups this week as Matt cashed with both of his Cash game lineups yesterday on FanDuel and FantasyDraft. Meanwhile, I was able to squeak out a cash with my Cash game lineup on DraftKings and put up a nice score with my GPP lineup finishing 186th out of 2,352 in the Daily Dollar. Matt and I will try to keep it rolling tonight.
Here is a list of the "rules" we are following when constructing lineups:
We will make two separate lineups for each site (FanDuel and DraftKings), one for Cash games and one for GPP tournaments.
For Cash games, we will build the core of our lineup from the Consensus list using any player listed regardless of what tier they are in and will be allowed to choose 1 player that is not on the Consensus list that we consider to be a good play.
For GPP games, we are allowed to choose up to add 2-3 players that are not on the Consensus list to help complete a hitter stack or we consider to be a good play.
We can modify any lineup as we see fit for any late-breaking lineup news that opens up good options even if they are not on the Consensus list.
As always be sure to check for late-breaking news regarding weather and lineups.
Entrant – Matt – FanDuel
Cash Game Lineup
Cash Narrative – Back-to-back winners in the FanDuel Cash game. Let's keep it rolling tonight. Hamels seems like the safest bet of the pitching options. Once again, I'm stacking in the Cash game, though I'm not necessarily a proponent of that. No off the board plays needed tonight as I think the Consensus provided a pretty solid lineup.
GPP Lineup
GPP Narrative – As I said above, I think Hamels is the safest option tonight; however, I think Bauer has the potential to put up a monster night. If he can avoid the gopher ball, which the Rays like to hit, then he should be in fine shape for a large crooked number on the DFS scoreboard. Stacks of Orioles and White Sox can hopefully provide a bit more pop than my stacks last night. The only non-O's/Sox guy that cracked the lineup was Dozier. Eaton was the only off the board play.
Entrant – Brad- DraftKings
Cash Game Lineup
Cash Narrative – Solid Cash game lineup from top to bottom tonight using the top pitcher from the Consensus (Hamels) and pairing him with a high strikeout option with a little bit of risk (Archer). Going back to the Choo and Mazara again tonight even though they both had dud games last night, then loading up on hitters with HR upside at every other position.
GPP Lineup
GPP Narrative – Going with a chalk stack tonight with the Orioles including Schoop as an off the board play batting third tonight. Rounding out my hitters with Frazier and Nunez from the Consensus who both have two home run upside tonight and then grabbing an off the board play with Joyce batting fifth against a righty. In order to get the Orioles stack, I am going cheap with my second pitching option using Liriano at just $5,800. He is a big risk but can also pay off nicely if he has his best stuff going. Pairing him with Bauer who has big strikeout potential against the Rays.
Entrant – Matt – FantasyDraft
Cash Game Lineup
Cash Narrative – A solid lineup coupled with my two favorite pitching options. Another stack of O's in the Cash game but I'm okay with that. Even though McCutchen has struggled in 2016, I could not pass him up at that cheap of a price. He is my lone off the board play.
GPP Lineup
GPP Narrative – Similar story to what Brad mentioned above. I like the upside of Archer but there is potential for a blowup as he's been a completely different pitcher away from The Trop. Stacks of White Sox (Eaton off the board) and O's similar to my FanDuel lineup. If we cash big on one site, we should do the same on the other. Snatching up Miggy as a big bopper to hopefully provide a longball or two…or three?!
https://dailyoverlay.com/wp-content/uploads/2016/04/mlb-expert-consensus.jpg
159
360
Brad Richter
https://www.dailyoverlay.com/wp-content/uploads/2018/07/logo.png
Brad Richter
2016-06-22 21:27:54
2016-06-22 21:27:54
MLB Consensus Lineup Construction – June 22