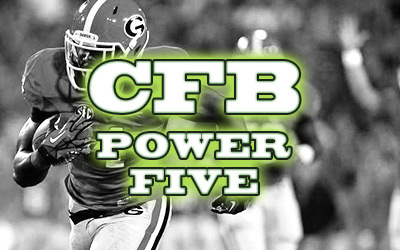 If you are reading this, my daughter, Harper, has arrived. My wife and I are patiently waiting for discharge from the hospital.
Due to the birth of my daughter and an oblong slate of games this weekend, the Power 5 will give you picks to use Friday and Saturday (Early only) on DraftKings.
Not going to bother with much of an intro, but beware of injury news. If Shock Linwood, Jordan Howard and Kenneth Farrow are all out, then Devin Chafin, Devine Redding and Ryan Jackson become great value plays. None of these backs make my list this week because of the injury concerns, but just be mindful of the value the backups provide. I love Chafin and Redding more than Jackson should Linwood and Howard sit.
P.S. Make sure you play Leonard Fournette against Texas A&M as well. That's the easiest points you will ever see in DFS college football!
OK, no more intro, pick time!
Quarterbacks
Zach Terrell – Western Michigan vs. Toledo – $6900 – Friday
Analysis: I'll be honest, I don't know much about Terrell. I've never seen him play and I've had limited exposure to him in fantasy this year due to the MAC playing games during the week instead of the weekends. However, Terrell has been consistent all year and has a duo of talented wide receivers (see below) and Toledo is allowing 262 yards passing per game.
C.J. Beathard – Iowa vs. Nebraska – $5500 – Friday
Analysis: The LONE undefeated team in the Big Ten are the Iowa Hawkeyes (who knew?). Beathard has had his ups and downs, but the Hawkeyes have a dynamic running attack to complement a balanced passing attack. It's going to be difficult for Iowa to run all over Nebraska on the road, so I believe it will be Beathard picking apart the Huskers' secondary that allows 305 yards per game.
DeShaun Watson – Clemson – vs. South Carolina – $8900 – Saturday
Analysis: Watson struggled a bit against Wake Forest, throwing a couple of picks, but he was still solid for the day. This week he is the highest-priced QB, so I expect his ownership to dip a bit at his price. He can throw and he can run, and SCAR cannot stop the running game, allowing 215.7 yards per contest.
Joel Lanning – Iowa St. vs. West Virginia – $6200 – Saturday
Analysis: I don't know why the Cyclones didn't just start Lanning after the first couple of weeks of the season. The guy has proven he can pass, throw the deep ball or tuck it and run. He has a tough test in Morgantown, but the Cyclones will be playing from behind most of the game, or hell, they could even keep this one really close honestly, and Lanning will be right there, easily paying off his salary against a secondary that is riddled with injuries.
Austin Appleby – Purdue – vs. Indiana – $5200 – Saturday
Analysis: I wish David Blough would play. He's much better than Appleby, but fortunately, Indiana's pass defense is so bad, that even a 400-pound Jared Lorenzen could run and pass all day on this team. I loved Perry Hills last week against the Hoosiers (and of course he suddenly caught mono), so Caleb Rowe came in, and did well before exiting with an injury. My point is it doesn't matter who is quarterbacking an offense against Indiana. If Appleby can't perform well, he should probably stop playing.
Running Backs
Jeremy McNichols – Boise St. vs. San Jose St. – $7900 – Friday
Analysis: I've made it a habit lately to list a ton of running backs for you to play. Well, we have more games than usual this week and instead of writing two Power 5 articles, we are condensing into one. First up is Jeremy McNichols, the only guy you want to play from Boise as the Spartans allow a paltry 149 yards passing per game. On the plus side of that state is their rush defense, which is non-existent – surrendering 207 yards on the ground.
Kareem Hunt – Toledo vs. Western Michigan – $7400 – Friday
Analysis: Kareem Hunt came into this season as the lead dog after a stellar 2014 campaign, then he got hurt. He didn't quite earn workhorse duties after coming back from injury either, but he's healthy now and the doses of Hunt in the past four games have been large. He has 3 straight 100-yard games with 2 touchdowns in each to go along with at least 20 totes in his last four. WMU allows 185 yards on the ground per game, not the stout defense we are used to from the Broncos.
Qadree Ollison – Pittsburgh vs. Miami – $5300 – Friday
Analysis: Pittsburgh has one of the best WRs in the game, and had one of the top RBs in the game in James Conner. But shaky QB play has limited Tyler Boyd at WR some and Conner went down for the year way back in the first couple of weeks of the season. Qadree Ollison has been the biggest beneficiary of injuries and other offensive struggles. This bell cow has a depressed price and faces a premium matchup with the Hurricanes who have a Category 1 rush defense (allowing 212 yards per game).
Myles Gaskin – Washington vs. Washington St. – $5100 – Friday
Analysis: With WSU QB Luke Falk possibly out for this rivalry game, it's possible the Huskies could take control early of this contest. Helping that cause will be newly-crowned lead dog Myles Gaskin. With sub-par QB play, Gaskin has come alive the past three games, carrying at least 18 times and has 2 100-yard performances. The ceiling may not be as high as we would like, but his matchup with a defense that allows 195 yards rushing per game should have you licking your chops at low ownership.
Derrick Henry – Alabama vs. Auburn – $9100 – Saturday
Analysis: Henry could make it easy for the Heisman votes this weekend if he puts up the numbers he should against Auburn. It's a rivalry game, so anything is possible, but I fully expect Henry to dominate the Tigers, who have ceded 180 yards rushing per game this season. DFS thoughts aside, I am going to really hope Auburn pulls off the upset.
Joe (or Joseph) Williams – Utah vs. Colorado – $5300 – Saturday
Analysis: He should've been on my list last week, but I overlooked him until Saturday's lineup construction went down. Williams is the guy for the Utes after the injury to Devontae Booker. The freshman looked great last week, flashing speed, quickness and the ability to burst through the gaps. He's going to be a dynamic running back next year. Oh yea, he's facing Colorado this week, at home, where the Utes should have an early lead and feed J-Will.
Mike Warren – Iowa St. vs. West Virginia – $6400 – Saturday
Analysis: If ISU could fix it's defensive issues soon, Lanning and this guy could have Iowa St. on the map in the Big 12 very soon. Warren is going to go overlooked this week, as he does every week. His price has risen after posterizing KSU last weekend. Warren gets a tougher test, but not an impossible task against the Mountaineers. WVU gives up 170+ yards rushing per game and the Cyclones like to let Warren eat.
Markell Jones – Purdue vs. Indiana – $5500 – Saturday
Analysis: Lots of value at RB on Friday and Saturday, and Markell Jones is another value play this week. I've already provided one Purdue pick (and another one is coming), and now we have another. Markell Jones. He's a safe cash game play. Yes, you heard that correctly. He is the top RB and catches passes out of the backfield. He's my favorite play all around at his price and matchup. He scored 17.5 fantasy points against Iowa, a very solid run defense. What's he going to do to Indiana's swiss cheese front?
Wide Receivers
Corey Coleman – Baylor vs. TCU – $7000 – Friday
Analysis: Two straight weeks with duds and that's no surprise considering Seth Russell went down. I think he's going to be vastly underowned than he should. The upside is there, but let's hope Chris Johnson or Jarrett Stidham can get him the ball in this high-scoring contest.
Corey Davis and Daniel Braverman – Western Michigan vs. Toledo – $6900 and $6300 – Friday
Analysis: Remember Zach Terrell from above? Well, here's who he is going to throw to – Davis and Braverman. Davis averages nearly 8 catches and 100 yards per game while Braverman is averaging 9 catches, 100 yards and a touchdown per game. Both should eat well.
Matt VandeBerg – Iowa vs. Nebraska – $3600 – Friday
Analysis: Tevaun Smith is another solid option, but he hasn't flashed the consistency of VandeBerg. You could say they might cancel each other out at times, but there's plenty to love about this matchup. If you saw Beathard as a play, then you know why I likve VandeBerg in this spot.
Nelson Spruce – Colorado vs. Utah – $6100 – Saturday
Analysis: He can't be stopped. Spruce is like Julian Edelman. Works from the slot, shows some burst and is consistent. He doesn't score a lot of touchdowns, but he's good for 6 catches and nearly 100 yards per game. They should be playing from behind, so Spruce will be looked to a lot to move the chains.
Jordan Payton – UCLA vs. USC – $6000 – Saturday
Analysis: If Devin Fuller isn't at full speed, then I REALLY love this play. UCLA has finally committed to a No. 1 receiver and that's clearly Payton. He's been a consistent cog in the UCLA passing game. He's got 3 100-yard games in his last four and faces a USC defense allowing 265 yards passing per game. USC just got torched by Oregon last week and appears to be reeling. Jump on while the iron is hot.
Courtland Sutton – SMU vs. Memphis – $5400 – Saturday
Analysis: I will be playing Calvin Ridley at this price point, but I like Sutton more. Memphis allows 280 yards passing per game and SMU will most certainly be playing from behind early (because they aren't that good). Sutton is the No. 1 receiver for QB Matt Davis and he's got lots of upside if he can find space.
DeAngelo Yancey – Purdue vs. Indiana – $4100 – Saturday
Analysis: Value and upside vs. the worst secondary in all of college football. Put him everywhere.
https://dailyoverlay.com/wp-content/uploads/2015/09/CFB-PowerFiveSmall.jpg
250
400
Stephen Monahan
https://www.dailyoverlay.com/wp-content/uploads/2018/07/logo.png
Stephen Monahan
2015-11-25 14:00:25
2015-11-25 14:00:25
CFB Power 5 - Friday-Saturday edition