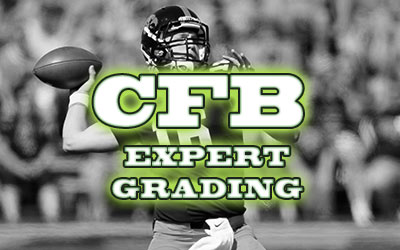 The infamous horse-collar that derailed Baylor's season.  Of course, that play wasn't the only reason the Sooners escaped Waco with a win; however, it came at a point where Baylor had just taken back momentum and was one play away from forcing a punt.  Enter horse-collar.  Exit victory.  Baker Mayfield played his hind-end off last Saturday.  I think the Sooners lucked in to a transfer that has potential to lead them to the national title.  Will it happen this year?  There's a lot of football left before we find that out.
It was another down week for the experts.  As good as they were to start the year, they've been just as bad of late. There was one standout among the group, headchopper from RotoGrinders.  He needed it after this pathetic output last week.  We did have a change at the top in our season-long CFB Daily Overlay Scores.  Rob O'Conner, of venoDFS.com, jumped back into the lead with a 2nd place finish for the week.
The Consensus did finish in the top-5 for the week.  Our Consensus is still keeping pace with the experts for the season.  It was the Highly Touted picks that sunk the ship this week as three of the four finished with failing grades. We'll give the Boykin pick a bit of a pass considering he was yanked due to injury.  An interesting play, and a guy that has shown up here a lot lately, is Marquise Williams.  The UNC offense is running as efficiently as any offense in the country over the last month.  Larry Fedora has his crew putting up points in bunches.  Let's review the Consensus picks from Week Eleven.
Quarterback
Highly Touted
F – Trevone Boykin (8x)
Recommended
A – Joe Hubener (6x)
A – Patrick Mahomes (5x)
Suggested
A+ – Jared Goff (4x)
A+ – Marquise Williams (3x)
C – Gunner Kiel (4x)
C – J.T. Barrett (4x)
F – Greg Ward (3x)
Running Back
Highly Touted
A+ – Ezekiel Elliott (9x)
Recommended
A+ – Jeremy McNichols (6x)
A – Dalvin Cook (5x)
A – Christian McCaffrey (5x)
D – Wayne Gallman (5x)
D – Donnel Pumphrey (5x)
D – Charles Jones (5x)
Suggested
A+ – Derrick Henry (4x)
B – Aaron Green (3x)
C – Devontae Booker (4x)
C – Kelvin Taylor (4x)
D – Sony Michel (4x)
D – Paul Perkins (3x)
Wide Receiver
Highly Touted
F – Will Fuller (9x)
F – Aaron Burbridge (8x)
Recommended
C – Demarcus Ayers (6x)
D – Jakeem Grant (6x)
F – James Washington (5x)
Suggested
A+ – Sterling Shepard (3x)
A – Shaq Washington (3x)
D – KaVontae Turpin (4x)
F – Kolby Listenbee (3x)
The top dog for Week Eleven was headchopper.  He topped the 5.0 mark and was the only expert to do so.  He was followed by Rob O'Conner, who was the only expert that topped the 4.0 mark.  Let's take a peek at the top scores for the week.
headchopper (RotoGrinders) – 5.38 – He used really strong plays at the QB position (Williams, Goff) and RB position (Elliott, McNichols) to earn four "A+" grades for the week.
Rob O'Conner (venoDFS) – 4.38 – He was the only expert to play Rashard Higgins.  Higgins was a popular Consensus pick at the beginning of the year but he's done a pretty fine disappearing act.
In Week Eleven, four of the experts scored between 3.0 and 4.0.  The group was led by Rob Veno, the namesake of venoDFS.com.  Rob has made some solid, not spectacular, picks in his two weeks since coming on board.
Rob Veno (venoDFS) – 3.48 – He stacked the Oregon combo of Vernon Adams and Darren Carrington.  In a high-scoring game, it was a bit of a surprise that each pulled in "D" grades.
Daily Overlay Expert Consensus – 3.39 – The Consensus continues to pick up solid grades each week.
Derek B. Davis (venoDFS.com) –  3.25 – Nothing flashy here.  No sleeper picks that stuck out in either direction.
Six of our experts scored in the 2.0 to 3.0 range.  We've seen a good chunk of the guys finish within this range over the last few weeks.  This is definitely not a good place to reside.
Daily Overlay Power Five – 2.76 – We got a lot more than the standard five picks at each position from Stephen.  In fact, we got almost double that.  Twenty of his 29 picks finished at a "C" or lower.  Even with that said, Stephen has put together a pretty solid year of picks.
DailyFantasyWinners.com – 2.55 – Almost the exact same score as last week from DailyFantasyWinners.com.  Same as Stephen, they had 20 of their 29 picks finish at a "C" or lower.
Fantasy Alarm – 2.45 – A similar theme from Fantasy Alarm.  An almost identical score to last week with 23 of their 33 picks finishing "C" or lower.  However, he was the only expert to choose Jehu Chesson!
STLCards (RotoGrinders) – 2.44 – The WR position was killer with three of four scoring an "F".  Jakeem Grant and his "D" grade was the lone non-failing grade.
DailyRoto – 2.31 – Twenty-eight of the 36 picks were "C" or lower.  The five "A+" grades kept them from the basement for the week.  The WR position was a killer as DailyRoto fell victim to eleven failing grades from that position.
a25smith (RotoGrinders) – 2.15 – Two staples of the QB position (Boykin, Ward) picked up failing grades for him. He still sits just outside the top-3 in the season-long standings.
Two very low scores in Week Eleven.  One was from one of our front-runners in the season standings.
JMBWngFN (RotoGrinders) – 1.89 – How hard is it to write the "bargain" article each week?  Well, JMBWngFN got to take his stab this week instead of Hester.  It didn't work out very well as he the best grade he picked up was a "B" from CJ Beathard.
DailyFantasySportsRankings.com – 1.00 – For the 2nd time in three weeks, DFSR.com find themselves in the bottom tier.  Eight of his nine picks finished at a "C" or lower.
Just when Hester began to pick up the pace with the bargain picks, they switched out the writer.  As I said above, JMBWngFN found out how hard it is to scrape the bottom of the barrel.  We've determined over the length of the season that CFB is the sport where the big dogs are the way to go each week.  I'll be back tomorrow with this week's Consensus Picks write-up.
Follow me on Twitter at @mbutlerOK.
https://dailyoverlay.com/wp-content/uploads/2015/09/cfb-expert.jpg
250
400
Matt Butler
https://www.dailyoverlay.com/wp-content/uploads/2018/07/logo.png
Matt Butler
2015-11-19 22:44:13
2015-11-19 22:44:13
CFB Week Eleven Wrap-Up and Expert Grades