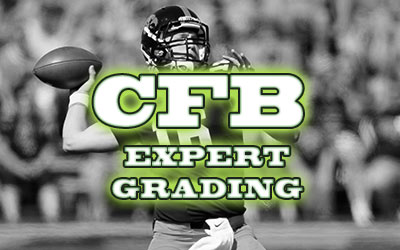 Ah, the good-ol' Michael Geiger windmill.  I think I heard somewhere that he windmilled 22 times…22 times!  That kick put Sparty right back in the thick of the playoff race though so let the guy windmill.  As a matter of fact, if Sparty wins out, they will likely be in.  Winning out means a win over Iowa (who I think is going down on Friday in Lincoln). As for the rest of the CFB world…Baylor took down an undefeated Oklahoma State team in Stillwater.  The Bears win propelled Oklahoma into the top-3.  Wait?  Say what?  Yes, it certainly did.  OU's road win in Waco a couple weeks ago looks so good now that the committee catapulted the Sooners into the thick of the playoff picture.  It may be short-lived though as Bedlam in Stillwater looms.  Should be another exciting Saturday!
Like a rodeo cowboy with a can of Copenhagen, the experts continue to dip.  We now only have two guys sitting at or above the 4.0 threshold.  After that there is a massive logjam with six experts sitting between 3.89 and 3.74.  As always, check out the CFB Daily Overlay Scores to see Who's Hot and Who's Not!
Only three experts finished above the 3.0 threshold for the week.  Our Consensus was right behind them, finishing at 2.91.  However, that score is not a good one.  The Consensus had half of its picks finish at the "D" or lower grade. Let's review the Consensus picks from Week Twelve.
Quarterback
Highly Touted
D – Brandon Doughty (7x)
Recommended
C – Keenan Reynolds (5x)
F – J.T. Barrett (5x)
Suggested
A+ – Nate Sudfeld (3x)
B – Mason Rudolph (3x)
B – Marquise Williams (3x)
C – Baker Mayfield (3x)
F – Luke Falk (4x)
Running Back
Recommended
A – Royce Freeman (6x)
Suggested
A+ – Tyler Ervin (3x)
A+ – Christian McCaffrey (3x)
B – Donnel Pumphrey (4x)
D – Anthony Wales (3x)
F – Ralph Webb (4x)
F – Ezekiel Elliott (3x)
Wide Receiver
Highly Touted
F – JuJu Smith-Schuster (8x)
Recommended
C – Taywan Taylor (6x)
D – Darren Carrington (5x)
F – Aaron Burbridge (5x)
Suggested
A+ – Fred Ross (3x)
D – Laquon Treadwell (3x)
F – Corey Coleman (4x)
The top dog for Week Eleven was our very own  Daily Overlay Power Five.  Stephen is having a big week.  A championship medal from Week Twelve and a baby.  Of course, the baby probably plays second fiddle to the medal…I kid, I kid.  Congrats to one of our own for adding a bundle of joy to his life!
Daily Overlay Power Five – 4.41 – Who played Hawaii running back, Paul Harris?  Stephen did!  The lone expert to cash in on that "A+" grade.
After the Daily Overlay Power Five, there was a significant dropoff.  The only other pickers to break that 3.0 hump were Hester's Bargains and DailyFantasySportsRankings.com.  Mr. Hester has found quite a groove and has the 2nd best score for November of any expert!
Hester's Bargains (RotoGrinders) – 3.29 – He was the lone expert to pick Alex Gardner and his "A+" grade.  It's nice to see his bounceback.  He still sits at the bottom of the season-long standings but that was due to digging too big of a hole to get out of.
DailyFantasySportsRankings.com – 3.20 – Four of five picks at the WR position were failing grades.  With a little better performance from that position, he would have been in a lot better shape.  DFSR.com is sitting just outside the top-5 for the season but also not far from slipping down about three spots.
Seven of our experts finished in the 2.0 to 3.0 range.  Not a good place to be sitting but we're seeing this be the most common place over the last few weeks.
Daily Overlay Expert Consensus – 2.91 – The Consensus looks like it will finish in the top-10 for the year.  That's nowhere near where it was sitting after the first few weeks.
a25smith (RotoGrinders) –  2.82 – He's tied for 3rd in the season-long standings.  Probably not enough oomph to get to the top of the mountain but can certainly end up in the #2 spot.
headchopper (RotoGrinders) – 2.78 – Six of his nine selections finished with a "D" or lower.  Thanks to two "A+'s" from Tyler Ervin and Nate Sudfeld, he was able to salvage a so-so weekly output.
Derek B. Davis (venoDFS) – 2.38 – Eight of his 13 picks at the WR position finished with a "D" or lower grade.  That position has killed many a grade all season.
Rob Veno (venoDFS) – 2.33 – He's the smart man that only makes two WR picks, the position that kills grades.  That said, five of his nine picks still finished at a "D" or lower.
JMBWngFN (RotoGrinders) – 2.33 – Very evenly spread out with his grades.  One of each grade except for the four "F's".  When the high-priced, top tier guys struggle, so do a lot of the Grinders guys.
DailyRoto – 2.14 – Thirteen failing grades will kill an expert's week.  Not much to see here.  A large volume of picks and the typical spot in the bottom half of the experts.
Fantasy Alarm – 1.97 – I'll lump FA in with this group even though they finished below 2.0.  Nineteen of 29 picks finished at a "D" grade or lower.
Three extremely low scores in Week Twelve.  EMAC, who sits 2nd in the season-long standings, found himself in the basement for the week.  He and STLCards both finished at 0.89.  As I said above, if the high-priced studs struggle, so do the Grinders guys.
DailyFantasyWinners.com – 1.08
STLCards (RotoGrinders) – 0.89
EMAC (RotoGrinders) – 0.89
With only two weeks left in the CFB regular season, I don't see a lot of room for people to catch Rob O'Conner, who was mysteriously absent last week.  The Grinders guys are going to jam up the top of the scoreboard.  Our man Stephen may get some good juju from the new baby and creep his way up into the top-5.
It's looking like we may put out a Consensus article for Friday and Saturday this week.  Check back tomorrow night for a Consensus for Friday's plays.
Follow me on Twitter at @mbutlerOK.
https://dailyoverlay.com/wp-content/uploads/2015/09/cfb-expert.jpg
250
400
Matt Butler
https://www.dailyoverlay.com/wp-content/uploads/2018/07/logo.png
Matt Butler
2015-11-25 22:04:35
2015-11-25 22:04:35
CFB Week Twelve Wrap-Up and Expert Grades