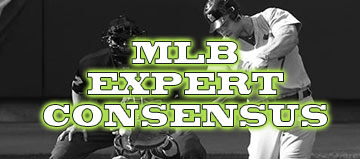 Here are the Industry Expert Consensus picks for the 14-game Tuesday night slate featuring a variety of high-end pitching options, a game at Coors Field and a few other stackable teams facing weak pitchers.
If you are a fan of this Industry Expert Consensus article then you will love our newest feature only available to Email Subscribers, called the "Weighted Consensus". In the Weighted Consensus, we provide a more in-depth version of the MLB Consensus that take into account each expert's current DailyOverlay scored to generate weighted rankings. If you have ever wondered how to differentiate between two players that were selected by the same number of experts then this is the tool you need. We also list all players selected by at least two experts. Sign up now for a small fee and get emails for this feature as well as the rest of our free content.
Scroll to the bottom of the article for the "Top Stacks" section that lists out the teams with the most hitters being recommended by the experts today. Also, be sure to check each team's lineup when it is released and watch the weather before finalizing your lineups tonight.
SP
Madison Bumgarner (11x)
Drew Pomeranz (8x)
Jacob deGrom (6x)
David Price (5x)
Jake Odorizzi (3x)
Brandon Finnegan (3x)
C
Josh Phegley (6x)
Brian McCann (3x)
Buster Posey (3x)
Nick Hundley (3x)
Evan Gattis (3x)
Robinson Chirinos (3x)
1B
Alex Rodriguez (1B/3B) (5x)
Joey Votto (5x)
David Ortiz (4x)
Ryan Rua (1B/OF) (4x)
Miguel Cabrera (3x)
Jose Abreu (3x)
2B
Jason Kipnis (8x)
Starlin Castro (5x)
Jurickson Profar (2B/3B) (5x)
Jose Altuve (3x)
Whit Merrifield (2B/OF) (3x)
Joe Panik (3x)
SS
Jhonny Peralta (6x)
Trevor Story (5x)
Brandon Crawford (4x)
Elvis Andrus (4x)
Francisco Lindor (3x)
3B
Danny Valencia (6x)
Nolan Arenado (5x)
Matt Carpenter (3x)
OF
Carlos Gonzalez (6x)
Carlos Beltran (4x)
Gerardo Parra (4x)
David Peralta (4x)
Mike Trout (3x)
Charlie Blackmon (3x)
Jarrett Parker (3x)
Khris Davis (3x)
Jake Smolinski (3x)
Top Stacks of the Night
Rockies (6) – Gonzalez, Story, Arenado, Parra, Hundley, Blackmon
Yankees (4) – Castro, Rodriguez, Beltran, McCann
Athletics (4) – Phegley, Valencia, Davis, Smolinski
Giants (4) – Crawford, Posey, Parker, Panik
Rangers (4) – Profar, Andrus, Rua, Chirinos
Hope you find the right combination to cash!
https://dailyoverlay.com/wp-content/uploads/2016/04/mlb-expert-consensus.jpg
159
360
Brad Richter
https://www.dailyoverlay.com/wp-content/uploads/2018/07/logo.png
Brad Richter
2016-06-14 19:29:20
2016-06-14 19:29:20
MLB – Industry Expert Consensus – June 14th