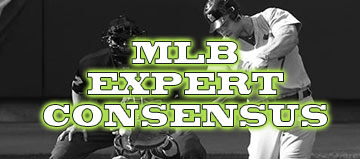 The Friday night DFS slate features 14 games of MLB action to start off another weekend. There is a gaggle of strong pitching options to consider, unfortunately, most of them will cost you a pretty penny to roster. Same goes for the hitting side where the teams with the top five Vegas implied run totals are all high-priced star-laden lineups like the Yankees, Red Sox, Astros, Nationals and Indians. Hopefully, some value bats work their way into prominent lineup spots so we can fit in a bunch of these high-priced studs. Game on!
Be sure to sign up for our Premium Content so you don't miss out on any of the content we have here at DailyOverlay.
Let's mow down the competition 3 Up and 3 Down…
3 Up
Ace
Chris Sale (FD-$12,500 / DK-$14,000)
I'm not sure if Sale will be the uber-chalk or not on Friday's slate given his high salary and the bounty of strong options in the high to mid-priced range. High ownership or not, I will be forcing Sale into many of my lineups as he is in peak form right now and has a very favorable matchup against the Royals team who has the fifth highest strikeout rate (24.4%) and a league-worst wOBA (.244) and wRC+ (49) against lefties over the last 30 days. Meanwhile, Sale's velocity is up over his last two starts which has resulted in allowing just five hits and no runs in 14 innings while producing 24 strikeouts. Sale should dominate, now it's just a question of can you find enough value to fit him.
Value
Mike Foltynewicz (FD-$8,800 / DK-$10,500)
If you are looking to save a little bit of salary from Sale to fit in more bats then give Foltynewicz consideration. He has only pitched five innings in each of his last three starts but there was a DL stint in the middle of that stretch that cut short an outing and has limited his pitch count since coming back. Now that he will be pitching his third game since returning from the DL look for the pitch count to elevate allowing him to pitch deeper into the game against the Brewers on Friday. The Brewers have had their fair share of swings and misses recently with the league's highest strikeout rate (28.2%) against righties over the last 30 days. Folty is worth both Cash and GPP consideration.
Darkhorse
Lance Lynn (FD-$7,300 / DK-$6,400)
If we are going to roster the high-priced Sale on two-pitcher sites we better find some deep value to pair him with. Lance Lynn fits that profile as a small Vegas favorite pitching at home against the Orioles. The Orioles have the 9th highest strikeout rate (23.5%) and rank in the bottom six in wOBA (.292) and wRC+ (82) over the last 30 days against right-handed pitching. Meanwhile, Lynn has pitched well at home this season with a 2.70 ERA and .294 wOBA allowed while only giving up two homers over 36+ innings. He'll also get some benefit from a pitcher-friendly umpire who typically generates an increase in strikeouts and reduction in runs when he's calling the balls and strikes.
3 Down
Top Stacks
Red Sox vs. Jason Hammel
Jason Hammel has been lit up in each of his last two starts allowing six and seven runs respectively. While right-handed bats have made more contact off Hammel including a .373 wOBA, lefties have taken him deep more often with a 1.14 HR/9 rate. The Royals also sport the second highest bullpen ERA in the league so the hits won't stop when Hammel leaves the game.
JD Martinez (FD-$4,600 / DK-$5,700) – It'll be hard to fit both Mookie Betts and Martinez, so I'll lean towards J.D. who is priced a little less and fits in with a middle of the lineup stack better.
Xander Bogaerts (FD-$3,500 / DK-$4,600) – Bogaerts is 5-for-10 with a homer off Hammel in his career and is coming off a two-hit game that included a homer.
Mitch Moreland (FD-$3,300 / DK-$4,600) – Moreland missed the last game for the Red Sox but could return on Friday. If he does plug him into a Red Sox stack with his success against Hammel (4-for-9 with a HR), if he sits then feel free to include Steven Pearce who will likely fill in at 1B instead.
Rafael Devers (FD-$2,700 / DK-$4,500) – Devers has been at his best on the road against righties this season with a .363 wOBA and .258 ISO.
Nationals vs. Dan Straily
The Nationals exploded for 14 runs last night, so we will look to carry that momentum into Friday's matchup with Dan Straily. Straily has allowed three or more runs in five straight starts with left-handed hitters doing the most damage against him, especially on the road with a .387 wOBA.
Matt Adams (FD-$3,000 / DK-$3,700) – Adams returned from the DL with a bang by pounding out four hits yesterday. If Adams gets a day off then consider Daniel Murphy for this slot.
Bryce Harper (FD-$4,300 / DK-$5,200) – Harper didn't join in the fun on Thursday but is hard to leave off a Nationals stack with his .357 wOBA and .304 ISO at home against righties this season.
Juan Soto (FD-$3,700 / DK-$4,600) – Soto has a .406 wOBA at home against righties this season.
Trea Turner (FD-$3,700 / DK-$4.700) – Turner was yesterday's hero with two homers and eight RBI and has produced seven hits over his last three games.
Contrarian Stack
Diamondbacks vs. Joey Lucchesi
Lucchesi has limited hits in his last two starts giving up just two knocks over nine innings against the Rangers and Pirates. He'll have a tougher task on Friday pitching at Arizona against the Diamondbacks power-hitting righties. Lucchesi has allowed 1.97 HR/9 to righties this season.
Paul Goldschmidt (FD-$4,200 / DK-$5,100) – Goldschmidt has posted a .430 wOBA and .352 ISO against lefties this season.
AJ Pollock (FD-$3,600 / DK-$4,900) – Pollock could be starting to get his hitting stroke back with a pair of hits on Thursday in just his three starts since returning from the DL. He has a .438 wOBA and .429 ISO against southpaws this season.
Nick Ahmed (FD-$2,500 / DK-$3,200) – Ahmed offers some salary relief for a hitter batting in the two-hole who has hit lefties well this season with a .365 wOBA and .228 ISO.
Ketel Marte (FD-$2,600 / DK-$3,400) – Marte was one of the lone bright spots for the Diamondback offense on Thursday with two hits including a double and a homer. He comes in with a .384 wOBA and .250 ISO against lefties this year.
Follow me on Twitter @Rotopilot
https://dailyoverlay.com/wp-content/uploads/2016/04/mlb-expert-consensus.jpg
159
360
Brad Richter
https://www.dailyoverlay.com/wp-content/uploads/2018/07/logo.png
Brad Richter
2018-07-06 18:21:05
2018-07-06 18:21:05
MLB – On the Hill – Friday (July 6)