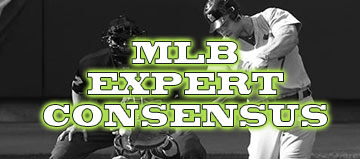 Well, well, well….
We've made it to the final week of baseball coverage here at DailyOverlay…and that means only one thing.
The NFL season is about to start.
Thursday night to be in fact, which is exciting in itself. Someone on DraftKings might win $1,000,000 (if they aren't sharing the Showdown pot).
But we still have baseball, but there's a new wrench in the bag for the remainder of the regular season – September call-ups.
Don't be surprised to see some funky lineups moving forward, if you play baseball beyond this week that is (I don't).
Narrowing down stacks for today's split slates is kind of tough knowing that lineups could be a bit odd, especially the early games since teams traveled today and some play first thing Monday, which doesn't happen often during the year.
But I've narrowed down my stacks for both the main early slate and the main evening slate.
There's a few games in the middle of both that won't be featured here, but you can get action on them in a few places.
My format the rest of the way is providing you stacks built around 2 starting pitchers I will use in my lineups. Basically, I am giving you my lineups for tomorrow. You can go down with the ship if you wish, or hopefully see some green with me.
The early slate for today will be free to view, but to see the full version, you will need to sign up for our 7-day free trial or put down a small investment for our services, monthly.
On a side note, look for TONS of College Football and NFL content moving forward. I don't know how we are going to put it all out, but it's going to be some awesome stuff.
But let's focus on baseball for today…
EARLY SLATE
Pitchers
SP1 – Dallas Keuchel – $7,900
SP2 – Vince Velasquez – $7,000
GAME STACK – CHICAGO CUBS AT MILWAUKEE BREWERS
Cubs
Daniel Murphy – $4,600
Kris Bryant – $5,100
Brewers
Jesus Aguilar
Lorenzo Cain
Analysis: Zach Davies falls into my dump list of pitchers I hate targeting bats against. For some reason, he's one of those guys that has awful stats on paper, but against good teams, he seems to avoid the damage. I'll still target against him with Murphy and Bryant today in hitter-friendly Miller Park. Against lefties, Davies is yielding a .365 wOBA against with a 40% hard hit rate allowed. Murph has been leading off for the Cubs of late and has really hit his stride. Bryant has returned to the lineup, making the Cubs much more dangerous. While Davies has been tougher on righties, Bryant is one power righty he hasn't figured out. In his career against Davies, Bryant is 13-for-33 with 2 doubles, a triple, 2 home runs, 6 RBI, a walk and a steal. On the Milwaukee side, the red-hot Brewers draw a red-hot Cole Hamels (can't believe I am saying that, but hey, pitching in the National League is his thing I guess). I am not jumping on the Christian Yelich heater today because I never get him right, even though he has great BvP against Hamels. Instead, I am taking two RH bats, including Jesus Aguilar, owns a 5-game hitting streak and is third on the team in wOBA against lefties at .377 with a .270 ISO. Cain has surged late in the season against southpaws and is back to his former self in that department. He is first on the team in wOBA against with a smoldering .453 and a .200 ISO. Cain is 3-for-11 with a double and a walk against Hamels, for what it's worth.
DETROIT TIGERS
James McCann – $2,700
Nicholas Castellanos – $4,300
Analysis: This is a great spot for these two Tigers, even coming off a pounding of the Yankees Sunday afternoon and travel. The Tigers are up against Reynaldo Lopez, who has turned himself into quite the reverse-splits pitcher. It just so happens, Castellanos and McCann can hit right-handed pitching really well, and their BvP numbers speak for themselves. Lopez owns a .343 wOBA and 1.41 HR/9 rate against righties this season. McCann is 7-for-13 with a double, a triple and 2 RBI (and he's a super cheap punt). Meanwhile, Castellanos has 7 hits in his last 4 games and sports a .444 average against Lopez with 4 doubles and 2 RBI to his name.
HOUSTON ASTROS
Carlos Correa – $4,300
George Springer – $4,000
Analysis: Don't target the Astros at home, don't target the Astros at home, don't target the Astros at home….ah dammit. Here we go again, the struggling Astros make the list. Their prices are too cheap to ignore and at any minute, this team could snap out of whatever funk it's been in since the All-Star Break. I can't help but believe that. Today they are up against Minnesota's Kyle Gibson, who has been much-improved thi sseason. Springer is the price that pops out, nearing sub-$4K numbers for the first time since….never? He's making lots of contact of late with 8 hits in his last 8 games. Correa is still trying to find his stride since coming off the disabled list, but maybe he's found his stroke, with hits in each of his last two games and a walk. The walk and a 2-hit game are positive signs that maybe his struggles are ending, too. Correa has always been a reverse-splits bat, so I am banking on that and him busting out of his slump.
https://dailyoverlay.com/wp-content/uploads/2016/04/mlb-expert-consensus.jpg
159
360
Stephen Monahan
https://www.dailyoverlay.com/wp-content/uploads/2018/07/logo.png
Stephen Monahan
2018-09-03 03:38:21
2018-09-03 03:39:10
MLB - The Stack - Labor Day (Early and Evening)