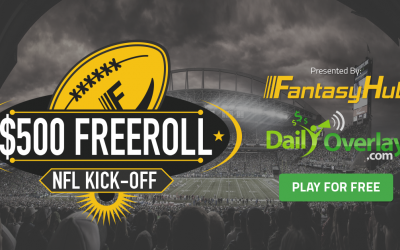 The Site
FantasyHub is not like other Daily Fantasy Sports game sites. Sure they still have daily contests for a variety of sports where you can enter to compete against other players to try to win yourself some money, but they also take it a step further by raising money for charity along the way.
FantasyHub has a percentage of the entry fees involved in the contest go to the charity of the winner's choosing. So when you are entering a contest you not only build a lineup to fit within the salary cap, you also get to choose a charity where some of the money from the contest will get donated to if you are one of the winners of that contest. How much gets donated is dependent on how high you finish in the contest and you can see the charity payout structure right along with the player payout structure for each contest. According to the FantasyHub lobby, they have raised $141,571 so far.
As for the website and gameplay itself in the few days that I have been a registered user, the interface seems very clean and easy to navigate.  They have a variety of additional perks such as athlete sponsored contests, sign up bonuses, ticket bonuses and something called hot streak points that you can earn for things like just logging in every day or entering contests every day that can gain you access to freerolls. It looks like a good site and I am excited to start playing on it.
The Promo
Here at DailyOverlay if you sign up for an account at FantasyHub this week you will get entry into a DailyOverlay freeroll contest with a total of $500 in cash prizes awarded. You will also get access to our beta version of the Exposure tool, which is a cool Chrome plugin for DraftKings. Head over to this article for more details of the promo and be sure to sign up before the NFL freeroll on Sunday.
The Picks
The lineup structure at FantasyHub for the NFL consists of 1 QB, 2 RB, 2 WR, 1 TE, 2 Flex, and 1 DEF. The scoring is pretty standard and they award a full point per reception. Here are few picks that I like at each position based on the salaries. These picks are more geared toward a GPP tournament like the DailyOverlay freeroll this week, I will give some High end, middle tier and bargain picks at each position.
QB
QB salaries at FantasyHub range from $5000 up to $8400 this week with a large number of QBs falling in the $5000-$5700 range
Tom Brady ($8400) – Brady is by far the most expensive QB on the list this week, a full $1000 more than the second man Aaron Rodgers. Because of this I expect Rodgers to be higher owned and Brady to see a lower ownership percentage. Plus in a game with the highest Vegas total against a Giants team that might be able to keep up with them, he has 5 TD upside this week. You will need some bargains at other positions to get him in, but he might be worth it.
Eli Manning ($6500) – I'm going to the same game for my next selection. You have to like a QB that is at home as an underdog with a high Vegas total. Eli and company should be passing the ball a lot this week and I don't think too many DFS players will be on him this week.
Kirk Cousins ($5100) – This one is all about the matchup. Cousins and the Redskins will play at home against the Saints who have given up 10 touchdown passes over the last two week. Cousins should finally have his full complement of receivers' available and healthy will likely need to pass the ball to keep up with the hot Saints offense.
RB
RB salaries at FantasyHub range from $3000 up to $7200 this week and are pretty spread out across that range
Todd Gurley ($7200) – Gurley is the most expensive healthy running back on FantasyHub this week, but with good reason. He had a "down" week last week but was on the road against a decent Vikings defense. This week the Rams are back at home and will face a Bears team that can be beaten on the ground. He will be a popular play, but is worth it
Mark Ingram ($6300) – He let down some DFS owners last week, including me, but I am willing to get back on the Ingram train this week. With Khiry Robinson out for the season, Ingram had a season high in touches with 26. He also had numerous goal-line rushing attempts, but just didn't get in the end zone. I expect the volume to continue the results to improve.
Doug Martin ($5500) – Martin and the Bucs are at home this week against the Cowboys who have given up the 2nd most fantasy points to opposing running backs this season. The Cowboys will also be without their best linebacker, Sean Lee, this week. Martin had a down game last week, but I expect a bounce-back this week.
Darren McFadden ($4800) – McFadden received every RB touch for the Cowboys last week. A player that is going to get that kind of workload who you can get for under $5000, sign me up. The choice between McFadden and Martin will likely come down to which team you think will take the lead in this game and work the clock with the running game in the second half.
Duke Johnson ($3000) – Johnson hasn't been getting many touches the last couple of week, but he is an explosive player who is involved in the passing game for the Browns. The Browns coaches have also made comments this week that they didn't get him the ball enough last week. With FantasyHub as a point per reception site, Johnson has the chance for 5+ receptions which could pay off his $3000 salary even if he doesn't score.
WR
WR salaries at FantasyHub range from $3000 up to $8700 this week and are pretty spread out across that range
DeAndre Hopkins ($8600) – Hopkins plays on Monday night football this week against the Bengals. I anticipate that many DFS players don't have Hopkins on their radar this week due to the Texans being on a bye last week. But in a game that the Texans are expected to be playing from behind with a 47-point total in Vegas, I expected Hopkins to get his usual high volume of targets and some garbage time catches yards and scores.
Odell Beckham Jr. ($8600) – If you need someone to pair with Eli, of course, there is no better option than Beckham who has 3 TD upside every week. Beckham will likely draw a lot of attention from the Patriots defense, but he should see a high volume of targets and has the ability to make the tough contested catches anyway.
Demaryius Thomas ($7300) – He had his worst statistical game of the year last week, but I expect a bounce-back this week at home against the Chiefs. The Chiefs have allowed the most fantasy points this season against opposing wide receivers and his mother, who has been in prison for over 15 years, will be in attendance to watch him for the first time ever. If that isn't motivating, I don't know what would be.
Stefon Diggs ($4900) – It sounds like Teddy Bridgewater will play this week which is good news for Diggs. The Vikings face off against a Raiders team that is putting some points on the board this season, so the Vikings will need to also put up some points which should involve Diggs.
Devante Adams ($4000) – Adams is healthy now and saw 11 targets from Aaron Rodgers last week in the Packers comeback attempt against the Panthers. With James Jones banged up a little and the Lions coming to Green Bay, look for the Rodgers to Adams connection to show what many expected earlier this season when Jordy Nelson went down.
Brandon LaFell ($4000) – LaFell has had at least 7 targets in each of his three games this season including 9 targets last week that resulted in 5 catches for 102 yards. The Patriots will score points and LaFell is a great way to get some cheap exposure to their offense.
Chris Givens ($3000) – With Steve Smith out for the season, Givens now steps into the Ravens starting lineup at WR. Givens is starting to get a nice connection with Joe Flacco who likes to throw the deep ball with Givens has the ability to go get. It will only take one long ball connection for the minimum priced Givens to reach his value.
TE
TE salaries at FantasyHub range from $3000 up to $7900 this week with Rob Gronkowski at the top end of the pricing before a big drop off to the rest of the field at $6100 or lower.
Rob Gronkowski ($7900) – This is likely the week you should pay up at TE and get Gronkowski if you can. The Giants have been one of the worst team against opposing tight ends this season, the Patriots will need to keep scoring to stay ahead of the Giants and Gronk had an "off" week last week with only four catches. Find a way to get him in your lineup this week.
Jordan Reed ($4400) – Perfect candidate to stack with Cousins. When Reed is healthy and in the lineup he is one of the top targets for Cousins. On top of that he is facing a Saints defense that just gave up a huge day to Delanie Walker last week.
Eric Ebron ($3100) – Ebron has scored 3 TDs this season in only 6 games played. The Lions will need to pass often to keep up with the Packers and the Packers are only the in the middle of the "pack" against opposing tight ends this season.
DEF
DEF salaries at FantasyHub range from $2500 up to $3900 this week and are pretty spread out across that range
St. Louis Rams ($3400) – Rams defense at home against the turnover prone Jay Cutler. Sign me up!
Carolina Panthers ($3000) – Faces a Titans team that is one of the most sacked and turnover-prone teams in the league
Denver Broncos ($2900) – Back home against an offense in the Chiefs that struggle to score points
https://dailyoverlay.com/wp-content/uploads/2015/11/500freeFHDOtwitter-1-400x250.png
250
400
Brad Richter
https://www.dailyoverlay.com/wp-content/uploads/2018/07/logo.png
Brad Richter
2015-11-14 09:13:37
2015-11-14 09:13:37
FantasyHub - Review, Freeroll and Picks