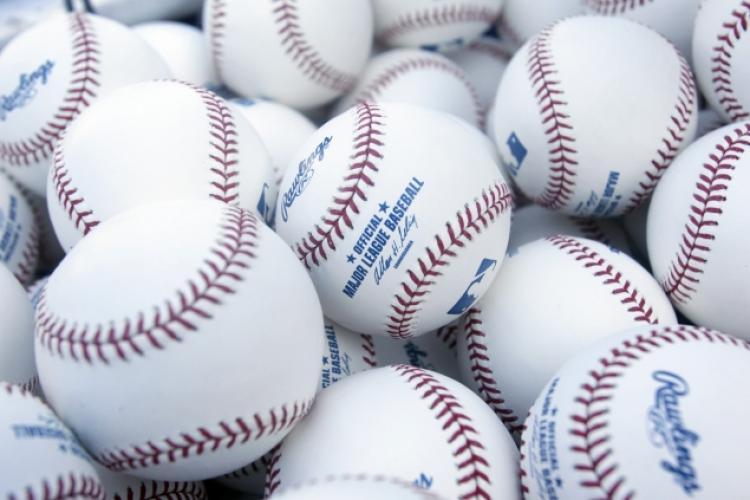 Happy U.S. Open Day!
In the midst of throwing some Milly Maker lineups into golf's second major tournament of the year and listening/reading golf content, I am looking at DRAFT for today's MLB slate.
Good luck in your golf contests, but let's dive into baseball on the DRAFT app.
Tuesday I published our inaugural DRAFT Strat article with some basic strategies that work for me playing baseball in this DFS format.
I will provide some general strategies from time-to-time, but I want to lay out a blueprint for the particular slate on tap. Strategies change day-to-day, so it's important to be flexible. The format for this article moving forward will be to provide any general strategies, then provide hitter and pitcher rankings and then suggest draft strategies for tournaments between 3 and 6 players. As I said last time, I don't play paid MLB contests with more than 6 players. That's just how I roll.
Before we get into today's rankings and content, a strategy that you need to keep in mind for all drafts – Keep Tabs of Positions Drafted. 
This is important so that you can know what position you should draft over others. The main thing to keep in mind is knowing that if you are the only person left that needs to draft a pitcher, infielder or outfielder, you don't need to draft that position until the last round. Why? Because no one else can take a player from that position because you are the only one left. I see this mistake all the time and it's very important. You don't need to draft a pitcher in the 3rd round if you have other open positions and no one else needs a pitcher. See what I mean?
Now, shall we get down to business for today?
On DRAFT, the main slate is all day, 9 games and the games start around 11 am central. This makes it  a bit difficult because you can't possibly know lineups of the late games before drafting. However, you can only do your best and AT LEAST you can late swap if a player in the night games is not in the scheduled lineup. You aren't drawing dead.
Of course, you need to keep weather in mind with all of this, but that's a given with MLB DFS anyway.
Below are my hitter and pitcher rankings, with short narratives for each. Then the strategies for 3-man, 5-man and 6-man contests. These numbers will be my focus today.
Top-15 Hitter Rankings
1. Paul Goldschmidt
2. Giancarlo Stanton
3. Mookie Betts
4. J.D. Martinez
5. Aaron Judge
6. Andrew Benintendi
7. Nelson Cruz
8. George Springer
9. Carlos Correa
10. Brandon Nimmo
11. Jose Ramirez
12. Gary Sanchez
13. Charlie Blackmon
14. Freddie Freeman
15. Jose Altuve
Rankings Analysis: Goldy is number one for me. He's red hot, facing a lefty and has 2 HRs off of Mets' starter Steven Matz in 5 ABs. Perfect Storm. Stanton and Cruz are up there because they are part of my rule – play them versus lefties. Both have had success against their opposing starting pitcher. The Red Sox are the top stack of the entire day facing a dead-armed Felix Hernandez, so stack them all up. I think the Astros are sneaky once again. They are on the road and hitting well. The Astros always play better and score more runs in road games, and now they are hot, sounds like a great recipe for success today. You could throw in Bregman if you wish. Brandon Nimmo seems like the random guy in this list, but the Mets are facing Matt Koch, who is the worst pitcher in all 9 games on the slate today. I just don't like a lot of Mets as they have yet to win a game this month. Nimmo is on fire though and should be leading off.
Top-5 Pitcher Rankings
1. Justin Verlander
2. David Price
3. Vince Velasquez
4. Mike Clevinger
5. Michael Fulmer/Domingo German
Rankings Analysis: Of course Verlander is No. 1. Price is my No. 2 and truthfully Velasquez and Clevinger are a tie for 3rd. I listed Fulmer and German on this list to get to 5, but I don't think I will be playing either of them unless I get desperate. So I am looking at 4 pitchers and that is all.
Dark Horse Player of the Day
1. Rafael Devers
Analysis: As I was typing this up, I had this idea. So who is my dark horse? Devers. He/s had a hitch in his swing lately and is finally finding his stroke. I love him as a late-round play (and value play in salary cap) against Pauper Felix (because come on, he can't be a King anymore).
3-Man Contests
The Strat – Regardless of where I am at in the draft, I am targeting Goldy as my first pick. I love him that much and will ride or die with him today. If I am 3rd and can't snag him, I will try for Verlander, but I will bet he's most people's No. 1 pick overall today against the A's. That's fine, but pitchers can't score that many points. Getting 10-12 points is a solid outing and if your bats go off, pitching is rather irrelevant. My 2nd and 3rd round picks will involve one of the 3 man Red Sox – Betts, J.D. or the Super Nintendo. Rounding out my lineups will be Stanton, Judge, Cruz, Brandon Nimmo or one of the Astros, depending on my need and what's off the board in the 4th and 5th rounds for me. Take pitchers in the late rounds here. No need to pay up when they will fall outside of Verlander. If I have 3rd pick overall and Verlander falls, I will take him here as I double-up with picks.
5-Man Contests
The Strat – With more players involved, we have to open our horizons a bit. Again, Goldy will be No. 1 overall, but I feel outfield doesn't provide a lot of depth today, so I will try to nail down my OFs after Goldy. If Goldy is gone, I will go after my OFs first – Judge, Benintendi, Nimmo, Springer and Betts. If I have to dip, I will go after Blackmon some. I think I can go after Nelson Cruz with my last round pick to cover my IF. Stanton should be available a little later and I definitely think you can snag the Astros late. I likely won't get Verlander here, so I will take a pitcher in the 3rd or 4th round.
6-Man Contests
The Strat – I might consider going Verlander over Goldy in this format if I can, and only because I don't want to be stuck with a scrub pitcher. But if I have No. 1 overall pick in this format, it's going to be Goldy 100 percent of the time. I avoid pitchers with my first round picks, but Verlander could be the exception because the rest of the pitchers are so weak. This is another format where stacking the Astros late makes sense. You can probably get one or two Red Sox, a Yankee and an Astro in this format. You might have to supplement with one offs like Nimmo and Cruz (maybe a couple other Mets' lefties if you dare). I am sticking to my player pool above and let the combinations fall where they may. In this format, I may have to go off the board once, but I'll gladly play Devers or the red-hot Gurriel late as IFs here.
https://dailyoverlay.com/wp-content/uploads/2018/03/IMG_1073.jpg
500
750
Stephen Monahan
https://www.dailyoverlay.com/wp-content/uploads/2018/07/logo.png
Stephen Monahan
2018-06-14 03:02:48
2018-06-14 03:02:48
MLB DRAFT Strat - Thursday, June 14