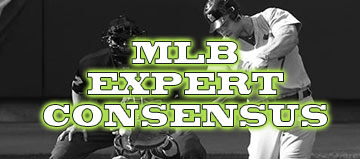 Thursday's article will focus in on the small four-game evening MLB slate. Pitching will be hard to come by on the night slate so a viable strategy could be to go cheap at pitching and really load up on bats since there are a couple of teams in particular that are in a good spot along with a few one-off options. Today's article will be free for your viewing pleasure but be sure to sign up for our Premium Content so you don't miss out on any of the content we have here at DailyOverlay.
Let's mow down the competition 3 Up and 3 Down…
3 Up
Ace
Blake Snell (FD-$9,200 / DK-$10,900)
I don't love recommending lefty Blake Snell pitching against the Yankees in New York with the wind blowing out. However, he has the highest strikeout upside on the evening slate and is in the middle of a breakout season with 2.30 ERA and 27.4% strikeout rate. The Yankees bat have been cold recently with just 17 runs over their last six games so maybe Snell is catching them at a good time. Snell is a viable option in both Cash games and GPPs but is by no means a lock.
Value
David Price (FD-$8,400 / DK-$8,600)
Price has allowed three runs or fewer in six straight starts while recording at least six strikeouts in all but one of those outings. He'll match up with the Mariners in Seattle on Thursday night. The Mariners have the 11th highest strikeout rate (22.5%) against lefties over the last 30 days while ranking in the middle of the pack in wOBA and wRC+ during that span. Price is a road favorite with a matchup that the Red Sox bats (more on them later) should be able to take advantage of against Felix Hernandez. Price is a viable option in both Cash games and GPPs but is by no means a lock.
Darkhorse
Anibal Sanchez (FD-$6,300 / DK-$5,500)
If you are looking to go cheap at pitcher so you can load up on bats, I don't blame you. Sanchez would be my top choice of the cheap pitching options on the slate as a small home favorite against the Padres. The Padres have the 7th highest strikeout rate against righties over the last 30 days while ranking in the bottom nine in wOBA, ISO and wRC+. Sanchez has been decent this season allowing two or fewer runs in four of his five starts with a respectable 21.3% strikeout rate this year. Sanchez is a viable option in both Cash games and GPPs but is by no means a lock.
3 Down
Top Stacks
Red Sox vs. Felix Hernandez
You will need to roster Anibal Sanchez in order to fit in some of the high-priced Red Sox bats on Thursday but it may be worth it. The Red Sox will face Felix Hernandez who has allowed four or more runs in three of his last four starts and a 1.28 HR/9 rate this season.
Mookie Betts (FD-$5,200 / DK-$6,000) – Betts launched a homer yesterday in just his second game back from injury and has a .474 wOBA and .363 ISO against righties this season.
Andrew Benintendi (FD-$4,900 / DK-$5,700) – Benintendi has six hits over his last four games including a home run and has a .421 wOBA against righties this season.
JD Martinez (FD-$4,900 / DK-$5,500) – Martinez hit another home run yesterday and has smacked 20 of his 22 bombs off righties this season.
Eduardo Nunez (FD-$3,000 / DK-$3,500) – Nunez has reverse splits in his career and is 3-for-6 off Hernandez.
Rafael Devers (FD-$3,500 / DK-$3,400) – Devers is on an eight-game hitting streak that has included three doubles and a homer.
Diamondbacks vs. Jason Vargas
Vargas has been hit hard by righties this season allowing a 37.2% hard-hit rate with a .377 wOBA and 1.59 HR/9. He has a 10.34 ERA in four road starts this season.
Paul Goldschmidt (FD-$4,500 / DK-$5,600) – Goldschmidt is riding a nine-game hitting streak over which he is batting .541 with six doubles, a triple and four home runs. Ride the streak, especially against a left-handed pitching which he has a .498 wOBA and .418 ISO this season.
John Ryan Murphy (FD-$2,600 / DK-$3,500) – Murphy has taken over as the primary catcher for the D'Backs and has a .406 wOBA and .354 ISO against lefties this year.
Nick Ahmed (FD-$2,800 / DK-$3,600) – Ahmed is the most intriguing option at SS on the slate with his .377 wOBA and .271 ISO against southpaws this season.
One-Off Hitters
Giancarlo Stanton (FD-$4,200 / DK-$5,000) – Stanton has a massive .487 wOBA and .441 ISO against lefties this season.
Eric Hosmer (FD-$3,800 / DK-$4,600) – Hosmer is batting .349 with five doubles and a homer off Anibal Sanchez in 43 career at-bats.
Nelson Cruz (FD-$4,100 / DK-$4,400) – Cruz is red-hot with five homers over his last five games and is batting .321 with a pair of homers off David Price in his career.
Brandon Nimmo (FD-$3,200 / DK-$4,000) – Nimmo has a .451 wOBA and .336 ISO against righties this season.
Follow me on Twitter @Rotopilot
https://dailyoverlay.com/wp-content/uploads/2016/04/mlb-expert-consensus.jpg
159
360
Brad Richter
https://www.dailyoverlay.com/wp-content/uploads/2018/07/logo.png
Brad Richter
2018-06-14 15:00:26
2018-06-14 15:00:26
MLB – On the Hill – Thursday (June 14) - Evening Only