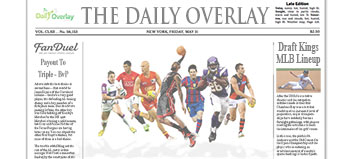 I almost found a pot of gold on St. Patrick's Day…
There was only one problem….I played Nikola Mirotic instead of Bojan Bogdanovic. Boggie was good to me the night before, but I figured the fade would've been appropriate, especially with a hobbling Taj Gibson and no Paul Gasol favoring Mirotic's production plus recency bias for Boggie because of his 44 points Thursday night.
Nope.
Bojan proceeded to score 38.1 FD points, a difference of 23.5 points. Math tells us that would've given me a 377 for the night with Boggie (unofficial nickname) in the lineup.
Guess where that would've finished in the $1 NBA Swat (amongst every other tournament available…)?
1st place…and $6,000 in my pocket…would've been my best basketball night ever.
But I'll take the $10 I did win and buy a small pack of diapers for the baby.
Would've.
Could've.
Should've
And we move on from those constricting contractions…
Tonight we have an interesting slate filled with 8 games and a salivating matchup for the Oklahoma City Thunder versus the Sixers. There are a lot of games with big O/Us so it's looking like a lot of points could be had by many.
To assist you with your lineup construction, our lineups are below, plus you can check out the Expert Consensus.
Also, everyone's bracket is busted, right? Thanks, Michigan State.
Entrant – Stephen – FanDuel
Cash Game Lineup
Cash Game Narrative: SF is a thin position on our consensus tonight, so outside of LeBron, Michael Beasley is the only other option, and I don't really like that since his points have come in bunches with very little minutes. I think KD could have 50 or he could have 25 in a blowout, so he's a tournament option for me. Tim Frazier has been listed as the starter tonight, so I am hopeful this scrub doesn't go all TLC on me because I normally don't "want no scrubs." OK, that was bad…
P.S. I am keeping my eye on Elfrid Payton and any OKC players, have a hunch someone might sit in that game against the Sixers.
GPP Lineup
GPP Narrative: I had all intention of playing Enes Kanter here as I think everyone will be on "Bismack my Bitch Up." Kanter has been playing well and gets an awesome matchup. BUT, yes there's the "but," I started building this thing and realized how ridiculous of a lineup it is. I can fit 4 studs and am still able to use 2 off-the-board players: Joseph and Belinelli (listed as probable with McLemore out and Casspi questionable). So, I guess you can say I am the guy going all in on a pair of aces with a 9, 2, 7 off-suit flop.
Entrant – Matt- DraftKings
Cash Game Lineup
GPP Lineup
GPP Narrative – I always fill out my Cash game lineup first.  After filling out today's, I thought about using it for both Cash and GPP.  However, I made one small change and my "off the board" play is Hollis Thompson.  The sieve that is the Thunder defense has been kind to me several times this year.  Thompson should put up some points and hopefully can find a way to snag a few rebounds and dish out some assists.
https://dailyoverlay.com/wp-content/uploads/2015/11/news.jpg
159
360
Stephen Monahan
https://www.dailyoverlay.com/wp-content/uploads/2018/07/logo.png
Stephen Monahan
2016-03-18 21:00:00
2016-03-18 21:00:00
NBA Consensus Lineup Construction - March 18