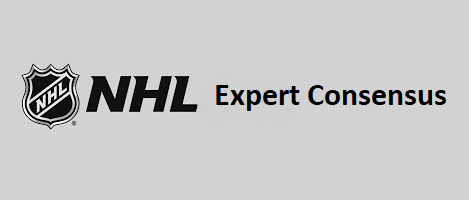 Just a small four-game slate on the NHL ice heading into the weekend on Friday night. There is still no shortage of options from the DFS analysts review. With just four games on the slate, let's make this a Freebie Friday. Enjoy!
The Weighted Consensus for the NHL uses each expert's current DailyOverlay score to generate a Weighted Consensus ranking. To calculate the Weighted Rank Score, each expert's DailyOverlay score for players is weighted on a sliding scale from 1 to 5 with the top expert in the current standings being weighted with a five while the last place expert is weighted with a one. This method gives the higher rated experts picks more weight when compiling the overall player rankings for the day. We will include all players that have a Rank Score of over 5.0.
Sign up for a FREE 7-day trial of our premium content!
Here is the NHL Weighted Consensus list for March 8:
Centers
| | | | | | | | |
| --- | --- | --- | --- | --- | --- | --- | --- |
| Name | Team | Pos | Price | Cash % | GPP % | Count | Rank Score |
| Vincent Trocheck | FLA | C | $5,300 | 25% | 21% | 6 | 17.15 |
| Sebastian Aho | CAR | C | $7,400 | 21% | 18% | 5 | 15.79 |
| Jordan Staal | CAR | C | $3,500 | 21% | 18% | 5 | 14.84 |
| Aleksander Barkov | FLA | C | $7,200 | 15% | 14% | 4 | 10.02 |
| Joel Eriksson Ek | MIN | C | $2,900 | 8% | 8% | 2 | 7.71 |
| Ryan Getzlaf | ANH | C | $5,100 | 8% | 8% | 2 | 6.49 |
| Nicklas Backstrom | WAS | C | $6,400 | 12% | 11% | 3 | 6.06 |
| Eric Staal | MIN | C | $5,600 | 8% | 8% | 2 | 5.64 |
| Phillip Danault | MON | C | $4,600 | 12% | 11% | 3 | 5.38 |
Wings
| | | | | | | | |
| --- | --- | --- | --- | --- | --- | --- | --- |
| Name | Team | Pos | Price | Cash % | GPP % | Count | Rank Score |
| Alex Ovechkin | WAS | W | $8,000 | 41% | 31% | 8 | 25.35 |
| Jonathan Huberdeau | FLA | W | $6,100 | 16% | 15% | 4 | 12.27 |
| Andrei Svechnikov | CAR | W | $3,300 | 22% | 19% | 5 | 11.70 |
| Ryan Donato | MIN | W | $3,800 | 16% | 15% | 4 | 11.46 |
| Evgenii Dadonov | FLA | W | $5,000 | 12% | 11% | 3 | 9.65 |
| Kenny Agostino | NJ | W | $2,500 | 7% | 7% | 2 | 8.65 |
| Blake Wheeler | WPG | W | $6,900 | 12% | 11% | 3 | 8.57 |
| Brendan Gallagher | MON | W | $6,800 | 12% | 11% | 3 | 7.31 |
| Patrik Laine | WPG | W | $6,200 | 12% | 11% | 3 | 7.27 |
| Nino Niederreiter | CAR | W | $5,200 | 7% | 7% | 2 | 6.63 |
| Jason Zucker | MIN | W | $4,600 | 12% | 11% | 3 | 5.79 |
Defensemen
| | | | | | | | |
| --- | --- | --- | --- | --- | --- | --- | --- |
| Name | Team | Pos | Price | Cash % | GPP % | Count | Rank Score |
| John Carlson | WAS | D | $6,200 | 12% | 10% | 4 | 9.84 |
| Jared Spurgeon | MIN | D | $5,100 | 9% | 8% | 3 | 9.52 |
| Keith Yandle | FLA | D | $5,600 | 9% | 8% | 3 | 7.72 |
| Jacob Trouba | WPG | D | $4,800 | 9% | 8% | 3 | 7.54 |
| Dougie Hamilton | CAR | D | $5,500 | 7% | 6% | 2 | 7.12 |
| Shea Weber | MON | D | $6,100 | 7% | 6% | 2 | 6.27 |
| Cam Fowler | ANH | D | $4,100 | 7% | 6% | 2 | 6.22 |
| Ryan Suter | MIN | D | $4,600 | 7% | 6% | 2 | 5.28 |
Goalies
| | | | | | | | |
| --- | --- | --- | --- | --- | --- | --- | --- |
| Name | Team | Pos | Price | Cash % | GPP % | Count | Rank Score |
| Braden Holtby | WAS | G | $8,400 | 26% | 21% | 7 | 18.46 |
| Carey Price | MON | G | $8,100 | 20% | 17% | 5 | 12.01 |
| Curtis McElhinney | CAR | G | $6,800 | 15% | 14% | 4 | 11.91 |
| John Gibson | ANH | G | $7,100 | 12% | 12% | 3 | 7.90 |
| Devan Dubnyk | MIN | G | $7,500 | 7% | 7% | 2 | 7.17 |
Dollar Values are based on DraftKings
https://dailyoverlay.com/wp-content/uploads/2019/01/nhl3-1.png
200
469
Brad Richter
https://www.dailyoverlay.com/wp-content/uploads/2018/07/logo.png
Brad Richter
2019-03-08 22:00:17
2019-03-08 22:00:17
NHL – Industry Expert Consensus – March 8th